Sorry, but this product is currently out of stock.
You can click on any of the items below to be notified when they come back in stock.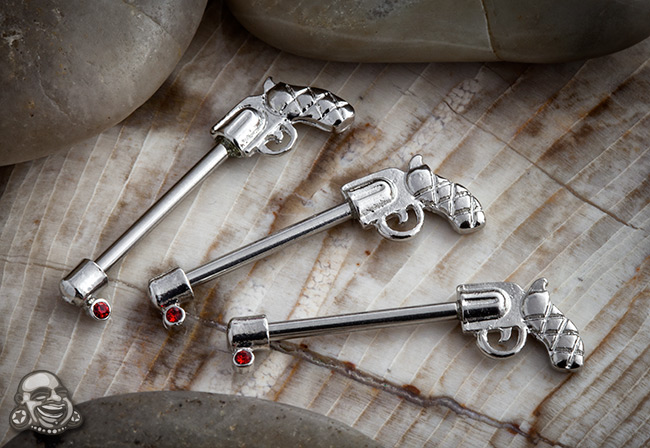 Date posted: 2/14/2013
14g 5/8"
These are cute and a really good size, not too big and not to small. The end with the red jem is on the smaller size, and while not a problem for me, I could see it being a problem for anyone with any flair to their piercing.
Date posted: 12/3/2012
14g 5/8"
very detailed! it's a tad on the heavy side tho
Date posted: 8/15/2012
14g 5/8"
The pistols my boyfriend this these are incredible - love them and dont get caught like i thought they would
Date posted: 7/19/2012
14g 5/8"
this is great barbel the gem is really pretty and the gun is well detailed i cant wait to wear it in my nipple piercing
Date posted: 6/2/2012
14g 5/8"
Overall the piece looks pretty shiny, is of good quality and I like how the red gem is subtle yet pretty. The bar is really long though and can be a little heavy so wearing it somewhere like on a conch would be most suitable (: