Sorry, but this product is currently out of stock.
You can click on any of the items below to be notified when they come back in stock.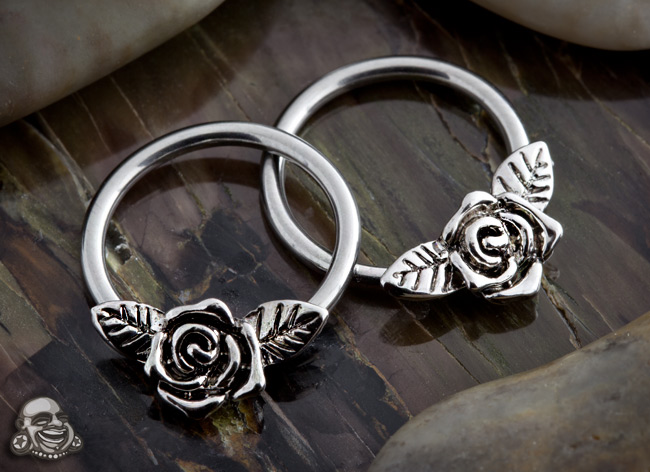 14g 1/2" - $4.95
Email me when this item comes back in stock
Date posted: 7/31/2014
14g 1/2"
These reside in my ears as a permanent pair and I've never had an issue with them at all. The beads stay facing the way they're supposed to and do not discolor after time.
Date posted: 7/28/2014
14g 1/2"
Such a beautiful piece of jewelry. It was kinda tight to fit the rose back into the ring, but nothing a set of pliers can't fix. I've been wearing it everyday and had no problems with it. Definitely satisfied with this purchase.
Date posted: 7/24/2014
14g 1/2"
I like the design of these, but find the rose captive bead very difficult to put back in. For this reason, I hardly ever wear them
Date posted: 4/11/2014
14g 1/2"
It was hard to put the rose on the ring, I needed help but once it was on it felt very secure. I love the rose design, very pretty with nice detail.
Date posted: 2/18/2014
14g 1/2"
I love this design! I get lots of compliments on it. My only issue is that after a few weeks of having it in (24/7), some of the silver seems to be wearing off and the flower is turning a bit pinkish at the edges. Good for the price, just don't expect the perfect silver coat to last too long!