Sorry, but this product is currently out of stock.
You can click on any of the items below to be notified when they come back in stock.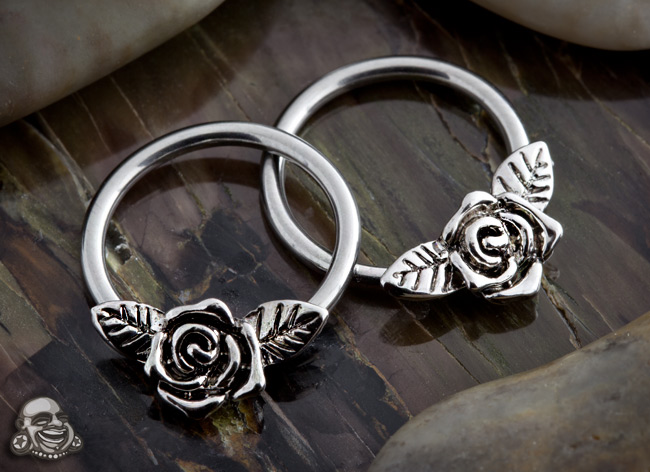 14g 1/2" - $4.95
Email me when this item comes back in stock
Date posted: 2/25/2015
14g 1/2"
I bought 2 pairs of these and they look really nice in person. They're way too wide for a spetum, but I got them for my nipples and they look very elegant.
Date posted: 12/4/2014
14g 1/2"
So the rose looks great! The details are well done and it is very pleasing to the eye. Unfortunately, for me, the hoop it comes with is HUMONGOUS! I have a helix piercing and believe that the 3/8" is a more flattering size. So I took a 3/8" steel hoop, bent it with some pliers, and popped the rose captive bead in. The tweaking was worth it because it still looks great!
Date posted: 10/28/2014
14g 1/2"
I love this captive! The rose is so detailed and pretty. It is a little hard to clip back in, as with many CBRs, but I loosened up the ring just a tiny bit with some ring opening pliers and that solved the problem.
Date posted: 10/22/2014
14g 1/2"
I had bought this a few months back and loved it. Sadly, the rose captive had fallen out and I couldn't find it anywhere. I love it so much that I just had to buy a replacement! Still love it just as much.
Date posted: 9/4/2014
14g 1/2"
These are so so sweet, and the rose captive is surprisingly easy to clip in!! It stays in place and looks really awesome!!