Sorry, but this product is currently out of stock.
You can click on any of the items below to be notified when they come back in stock.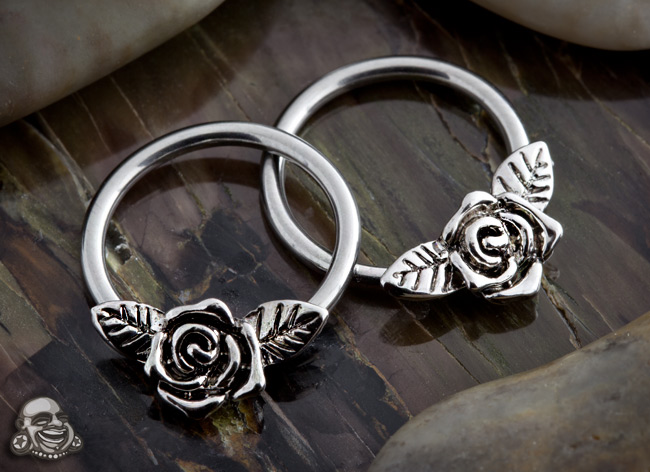 14g 1/2" - $4.95
Email me when this item comes back in stock
Date posted: 3/26/2013
14g 1/2"
I love everything about this! The details in the rose were nice and I was able to put it in pretty easily.
Date posted: 3/14/2013
14g 1/2"
The rose is really detailed and pretty. Got it for my nipple, would be perfect if the ring was smaller thou.
Date posted: 2/14/2013
14g 1/2"
There's so much detail in the rose! I had a smaller captive ring with a large bead (6mm I think) that I swapped out for the rose. It comes with a 1/2" ring which is too large for any of my piercings. But it looks great in the lower "half" of my industrial piercing with the smaller ring.
Date posted: 1/25/2013
14g 1/2"
This is the most beautiful piece of body jewelry I've ever seen! However, beware actually putting it in! The ball is so hard to get back on. It's still very cute and good quality.
Date posted: 1/23/2013
14g 1/2"
The rose is actually a little more detailed than I thought it would be. It's also really stuck in to the ring, so you'll definitely need a piercer to help put it in or a pair of ring pliers. The ring itself is a little big for my conch, but it's still cute.