Sorry, but this product is currently out of stock.
You can click on any of the items below to be notified when they come back in stock.


This item is hand carved from organic material and the gauge will vary +/- up to 0.5mm.
These are horn plugs inlaid, by hand, with real leaves, so you can expect some variation between each pair.

0g and 00g have a 5/16" wearable.
1/2" through 11/16" have a 3/8" wearable.
13/16" and up have a 7/16" wearable.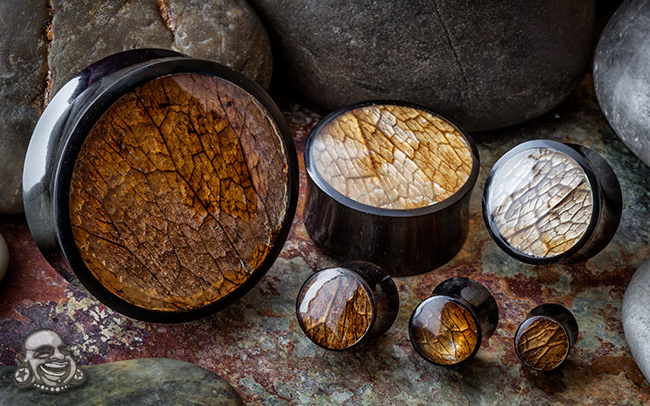 0g (pair) - $19.95
00g/10mm (pair) - $19.95
12mm (pair) - $23.95
9/16" (pair) - $23.95
5/8" (pair) - $27.95
11/16" 18mm(pair) - $27.95
13/16" 20mm(pair) - $27.95
7/8" (pair) - $31.95
1" 26mm(pair) - $37.95
1-1/4" (pair) - $43.95
1-1/2" (pair) - $59.95
Date posted: 8/21/2012
1" 26mm(pair)
absolutely gorgeous! also, very light so they don't tug on my lobes.
Date posted: 6/28/2012
5/8" (pair)
These were just okay. Not as awesome as I was expecting, but still a cool idea. The flare was a nice size.
Date posted: 5/25/2012
13/16" 20mm(pair)
These are probable one of my new favorite pairs of plugs to wear. I wasn't sure how the quality would be when I first saw them, but I felt that for $25, it couldn't hurt to order them anyway. I loved them as soon as I got them out of the package. In 19-20mm the detail in the leaves is amazing and I love the color of them. I've gotten several compliments and some people even thought they looked like a snake skin pattern at first. The horn is smooth and the wearable surface was perfect for my ears as well.
Date posted: 5/13/2012
0g (pair)
These are really unique and once oiled look really great. As with some organics, the pair was mismatched for size, but in-ear it doesn't matter.
Date posted: 5/4/2012
12mm (pair)
Even though they're not as bright as the ones in the picture, I really love these! Just got them in the mail yesterday and have worn them today and have gotten a few comments on them. The only thing is that one of the pieces I received seemed to have a bit of a chip, which made it uncomfortable to slide in. Other than that, these guys were great.